The Reviews Are In for Med Tech Monday!

"Its like a Crash Course for the Med Tech Industry."
Henry T
"Such a great event! Looking forward to the next one!"
Leilani C.
"Med Tech Monday was a highly informational and successful occasion."
Bree U.
​A fantastic article on the entire event : Med Tech Monday
​
New blog posts
Blogs Archive
Web Directory
Conference of the Month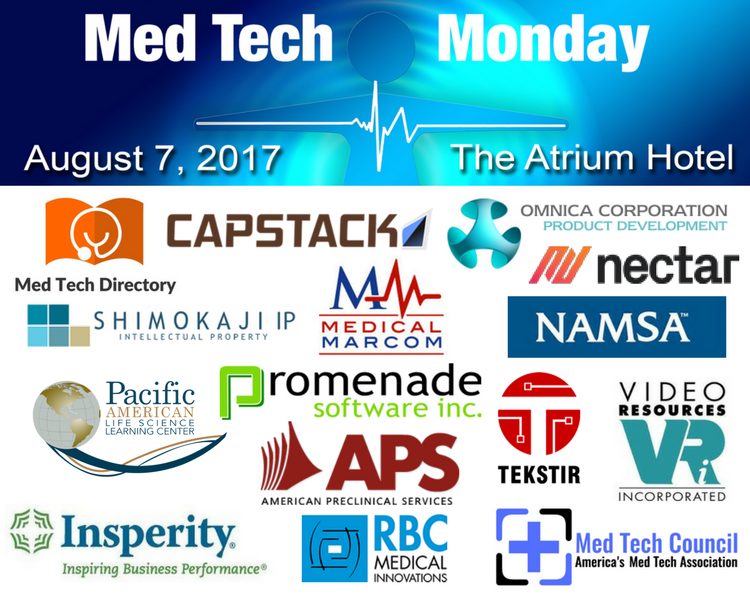 Med Tech Monday is August 7th 2017
Med Tech Monday is a one-day medical device conference held August 7th, 2017 in Irvine, California. We provide Orange County with the latest medical device innovations, investment insights, startups and discussions with industry leaders as to where the industry is headed in the towards the end of the year. The conference will include presentations and speakers as well as an exhibit area for our sponsors. Learn about new medical device innovations and hear from experts in every aspect of the field. This is the ultimate networking opportunity for you and your business. Attendance includes light breakfast, lunch, and a closing cocktail reception. This is an event not to miss for partnering and networking opportunities for med tech business development executives, startups, legal teams, biotech, investors, service providers and others with a stake in the rapidly evolving device space. See you at Med Tech Monday August 7th, 2017. Please forward this email to your colleagues and don't let them miss this fantastic event.
Atrium Hotel
18700 MacArthur Blvd Irvine, CA 92612



Join Med-Tech Leaders at DeviceTalks Minnesota
June 26 -27, 2017
DeviceTalks provides world-class education with exclusive insights from industry leaders changing the course of medicine. Coupled with a technology showcase featuring the hottest med tech companies in the marketplace, DeviceTalks is the premier opportunity for industry leaders to come together to share perspectives and network with the best of the best in the industry.

RESI San Diego 2017
Monday, June 19, 2017 from 7:00 AM to 8:00 PM PDT
The Westin San Diego Gaslamp Quarter
910 Broadway Circle, San Diego, CA 92101
Use Discount Code MDT2017
to save an additional $100 on the registration fee
The Redefining Early Stage Investments (RESI) Conference is an ongoing conference series that will be establishing a global circuit for early stage life sciences companies to source investors, create relationships, and eventually, get funding. The RESI conference focuses on the diverse breadth of early stage investors that LSN tracks, including Family Offices, Venture Philanthropy Funds, VCs, Angel Groups, Corporate Venture Capital Funds, and more. The RESI Partnering Forum allows fundraising executives to identify and book up to 16 meetings with life science investors who fit their company's technology sector and stage of development. Additionally, through an expansive series of panels and workshops, attendees will have the chance to hear firsthand accounts from investors explaining their current investment mandates and process for identifying and qualifying candidates.